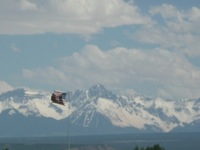 The Ag House/Karma House in Montrose and the Peaceful Ski in Ski Out Condo in Mt. Village available for short or long term rental - sports enthusiasts and Food and Wine Diners.
Both properties fully furnished & stocked, with parking.
Pets negotiable at both properties.
The AG HOUSE is an old Farmhouse in the North part of Montrose, Colorado which is the Old Apricot Orchard. It is designed and decorated for Backcountry & Cross Country Skiers and Ice Climbers. The house is Fully Furnished & Stocked with a library, TV with a DVD & VCR player, VHS & DVD tapes, brochures & maps of the area. It is walking distance to public transportation to and from Telluride.
Accommodations: House, 2 Bedrooms, 1 full Bath.
The Peaceful Sunny Walk in/Ski out Mt. Village 2 bed/2 bath condo is available for short or long term rental.
It is located in the Meadows area and is accessible to the Mt. Village Core, Grocery Store & the Golf Course via the Chondola, Free Dial -a -ride or a 10 –15 minute walk. Great 20 minute loop hiking/biking behind the complex. No access to garage.
Accommodations: Condo, 2 bedrooms and 2 full baths.
A P.O. Box is available in Mt. Village.
A $25 parking permit can be purchased through Mountain Village Police Dept.,
Procedure for Rental: References, Rental Application with Copy of Driver's License or Passport, Personal Interview and Showing of the Condo, Lease Signed & Accepted by All Persons, First & Last Month's Rent, Security/Damage/Cleaning/Pet Refundable Deposit. Non Refundable Lease.
For rental rates for the peaceful walk in/ski out condo and for The Ag House, please contact Ms. Kendra A. Wilcox: email kendraskitchen52@gmail.com or ring 800.894.9086 or Verizon cell # 970.708.7759 www.kendraskitchen.com