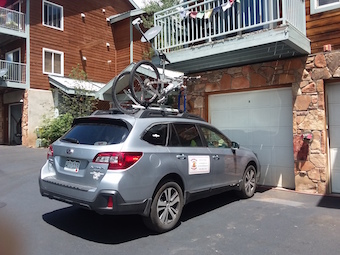 Ski/Golf Condo, Telluride, Colorado
Condo Rental in Mt. Village; June 2023, Guest Bedroom.
Summer, Autumn & Winter Recreation Season 2023/2024,
Fully Furnished & Stocked 2 Bed/2 Bath, Ski In/ Ski Out Condo is available.
Please contact the Owner; Chef Kendra A. Wilcox kendraskitchen52@gmail.com or text 970.708.7759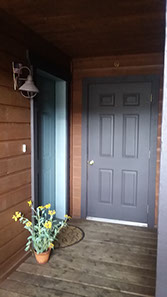 Foyer cabinet with themed tablesettings.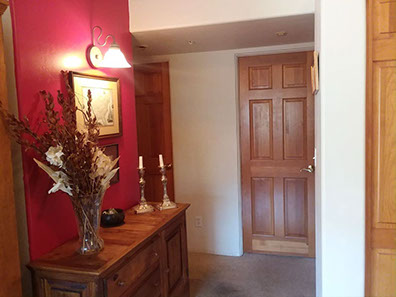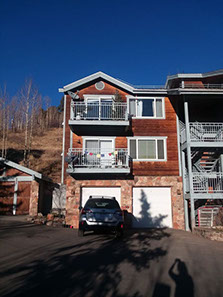 2nd floor unit, Buddhist prayer flags
The Outlaws Condomium Complex
Long hallway separates Master
bedroom from guest bedroom. Washer & Dryer on the right.
Master bedroom. Down pillows & down duvet. Quality semi firm queen mattress with cotton sheets.
Full Bath with Jetted Tub, Jets are adjustable and have strong water pressure, brand new 80 gallon water heater. (However, please conserve with water, the West is in a drought)
Hallway to Master bedroom.
Master bedroom to bathroom. Tibetan Decor. TV, VHS Player &Collection of VHS Tapes, Remote Control.
Morning Sunshine and View of Aspens
Expandable Desk with Office Lap, Surge Protector & Internet Booster for Remote Internet Work. SMART TV with Netflix and Basic Free Channels and Remote Control.
Memory Foam Pad on Top Twin Bed
Guest bathroom, with 2 doors one to guest bedroom and one to hallway
Armoire; SMART 32" TV with Nextfilx & Basic Free Channels, Sound Bar & Remote Control VHS Player and DVD Player. Many DVD's & VHS Tapes and Children's VHS Tapes. 5G Internet provided by Mt. Village Cable.
Open space for living, dining room and kitchen. Wooden Blinds Adjusted Manually to Desired amount of Sunshine.
Fully stocked kitchen. Refrigerator stocked with 1/2 gallon Bottled Water and Silver Goblet to stay Hydrated Coffee Maker & Coffee, Electric Water Kettle & Assorted Teas
Humidifier
Patented protective goggle covering for Ski, Outdoor Activity & Tactical markets. Licensing rights for sale.
SW Mexican Cuisine, Summer harvest of Olathe sweet corn.
New Year's Eve Dinner, Bison Tenderloin & Lobster
Balcony View overlooking the Telluride Ski Resort and Quail Mtn. Basic BBQ Grill with Kendra's Kitchen Multi Purpose SW Seasoning
Ride the Gondola, Free transportation via Dial a Ride to the Gondola or Winter Season, walk 2 minutes to Chondola/Big Billies
Outdoor socializing area with 2 rocking chairs and side table. White cushions for chairs are in locked sports closet outside condo's front door.
Powder Skiing! One may access Quail Mtn and Prospect Bowl from the condo, faster than commuters from Town of Telluride
Mt. Living Magazine, Cooking with a Celebrity Chef in Telluride. Smart & Spicy & Telluride Style Magazine, Cooking up Success
Robb Report Magazine: Holiday Essentials, Chef Kendra Wilcox's Aviation Cuisine
Denver Post, Offering the Right Ingredients
Each rental receives a bottle of Telluride's Own Rub & Multi SW Seasoning from Kendra's Kitchen
Library: The Climb, written by Anatoli Boukreev, 1996 Head Everest Expedition Guide and Filmmaker G. Weston De Walt
Library: The Climb, written by Anatoli Boukreev, 1996 Head Everest Expedition Guide and Filmmaker G. Weston De Walt.
There is a free dial-a-ride service and one may walk to the Chondola and take a 3 minute ride to the Mt. Village Core/Centre and board the 8 seater Gondola which is a 12 -14 minute picturesque ride to the Town of Telluride.
Serious Inquiries Only, First & Last Month's Rent and Security/Cleaning Deposit is Due Upon Signing the Lease Agreement.
Colorado Rental Application, Driver's License and Background Check is Required.
Each rental receives a bottle of Telluride's Own Rub & Multi Purpose SW Seasoning from www.KendrasKitchen.com as featured on the Food Network Channel/BBQ with Bobby Flay.
Patent & Licensing Rights for Sale. Please contact Ms. Kendra A. Wilcox and Patent Attorney. 800.894.9086 or kendraskitchen52@gmail.com or FB opticwrap.com
Featured in REEL Lumiere Magazine for Television & Film, October 2021, Telluride's Treasure.
Peaceful Sunny Condo is Not For Sale